The Imperial Residence of Maxsentius
Immagine lista: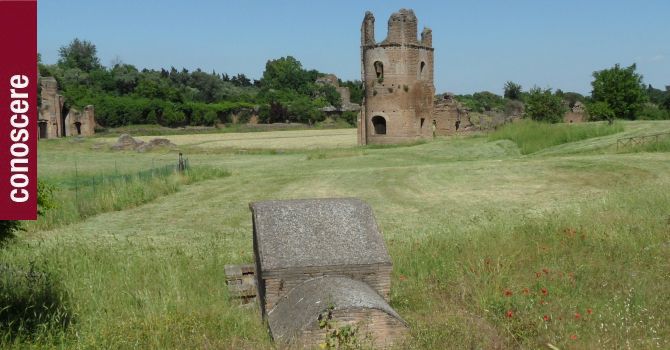 24/05/2015
Villa di Massenzio
The imposing residential villa located between the third and fourth mile of the Via Appia Antica which has been attributed to Emperor Maxsentius (306/312 AD) adversary of Constantine the Great in the battle of Ponte Milvio on October 28th, 312, is one of the most exquisite and impressive archaeological complexes of the Roman countryside.  Composed of three separate buildings, the family mausoleum, the circus, and the remains of the Imperial palace, closed from the outside but connected to each other through internal pathways. The most well-known monument in the complex is the circus, the only Roman circus well-conserved in all its architectural components that still preserves its central median strip or spina. Following an important restoration project completed by the city's Sovrintendenza, it is now possible to visit the mausoleum of the dynasty of Emperor Maxentius known as the "Tomb of Romulus" after the emperor's young son who is presumably buried there.  The remains of the apse of the Aula Palatina, this also recently restored, still dominate the extraordinary landscape of the park of the Appia Antica, signalling from a distance what remains of this imposing imperial palace.
The buildings undertaken by Maxentius (IV century AD) were the last acts in the transformation of an ordinary country villa of the Republican era (II century BC) built in an imposing position on the slopes of a hill and facing the Colli Albani.  The archaeological complex extends from the second to the third mile of the via Appia Antica.  The three buildings, the palace, the circus and the family mausoleum, designed in an inseparable architectural unity to celebrate the Emperor Maxentius, the unlucky adversary of Constantine the Great at the battle of Ponte Milvio in 312AD.
The entire area was acquired by the City of Rome in 1943,  and in 1960 in preparation for the Olympics being held in Rome, the entire circus was dug up and the outside walls reinforced as well as partial excavations of the palace, and the restoration of the median strip, the quadriporticus and the mausoleum.
Guided tour by Carmelina Camardo
Informazioni
Opening hours
Saturday, September 20 at 10.30.
Tickets for special events
Free entry and guided tour.
Information
Booking required: tel. +39 060608 (max. 25 people per vist)
Meeting point in via Appia Antica, 153
Organization
Sovrintendenza Capitolina and Zètema Progetto Cultura
Eventi correlati
Currently there are no ongoing activities.
There are no planned activities.
There are no archived activities.