Excavation and restoration work
It was Prince Giovanni Torlonia who showed his support to the plans to tackle the condition of the via Appia Antica by giving Nibby the go-ahead (1825) for his scheme to systematically excavate the Villa Maxentius area. Most of the many works of art uncovered during that period ended up in the private collection at the Borgo Palace. At the same time, the Appian-based estate however, was transformed into a working farm that was continued to operate as such until it was expropriated in 1943.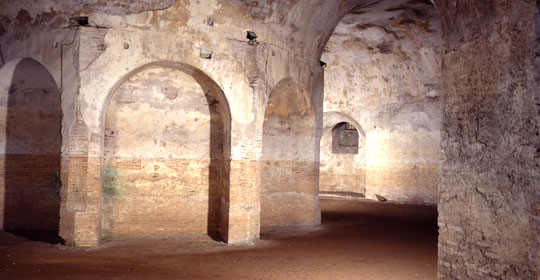 The Rome Olympics of 1960 provided the initial momentum to embark on excavating the circus area and it was at this time that both the interior and exterior of that particular monument were uncovered and the perimeter walls restored and strengthened.
Later, in 1965 / 67, excavation and restoration works on the palace, overseen by Division X of the Institute of Roman Studies and funded by the C.N.R., provided an invaluable contribution to the understanding of the evolution of suburban villa design in the Republican and Hadrian-Antonine periods into the Imperial palaces of the Tetrarchy.
The central raised median of the circus, called a "spina", was uncovered and restored during the 70s whilst work to partially restore the mausoleum began at the beginning of the 80s. The "carceres" of the circus, the Palazzina Torlonia and the burial crypt are relatively recent additions to the work schedule and are still part of the work in progress today.